The Metzger home in Idlewood Shores, above the bridge, is a 7500 square foot home reflecting European country style with asymmetrical gables, arch-topped windows, pillars and quoins. The great room which is open to the foyer and kitchen has a unique limestone fireplace. Beautiful Southeast Asian rosewood floors extend throughout the main level. Lower level has two guest suites, a kitchenette and a game room with a trophy wall honoring their son, a former professional baseball player.  A huge outdoor patio has abundant seating and an outdoor fireplace.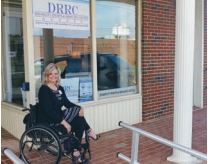 Diability Rights and Resource Center will be hosting at the home of David & Christine Metzger.
The DRRC provides advocacy assistance, peer counseling, support groups, workshops, independent living skills training and middle to high school to post-graduation transition services for individuals with disabilities. They also provide information for assistive devices, accessibility, and legislation along with referrals to local service providers to become or remain independent in the community.
145 Briarwood Court, Hardy