The Mele Home, above the bridge in Goodview, is a renovation of what the original builder termed "the first solar home on the lake." With 600′ of shoreline, the home was designed by the Meles and has been their home for 40 years. The homeowners have been antique hunting for 48 years, so collections plus family heirlooms make for a lot to see. There are dolls, bears, pottery, a spinning wheel, a 1782 grandfather clock, antique china cabinet, silk Turkish carpets, her father's Germany map of his bombing missions in WWII, and many other items with great stories.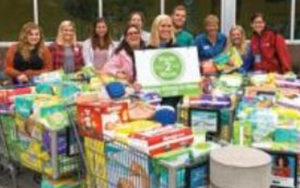 Bedford Pregnancy Center 
http://www.bedfordpregnancy.org/
The Bedford Pregnancy Center cares for women in pregnancy related situations by meeting their physical, emotional and spiritual needs empowering them to choose life. They offer free and accurate pregnancy tests with immediate results, information and educational resources, prenatal referrals, support throughout the pregnancy, postpartum and post-abortion counseling and an Earn While You Learn curriculum and Baby Boutique providing items through size 2T. These programs empower their clients to be the best parents possible.