The MacKenzie home in The Waters Edge is a complete re-do of the existing house. Walls were moved and parts of the home were bumped out to create the luxurious end product that the house is today. A blue and white theme runs through the house with tasteful accent colors adding to the excitement. "Before photos" will show the huge scope of this renovation.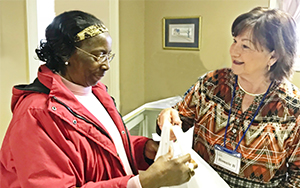 Agape Center
https://www.agapecentersml.org/
The Agape Center Inc. is a God-directed outreach ministry. They provide many services including food, clothing and household needs along with financial assistance for emergency needs, such as funds for utility bills, rent and medical needs. Agape also provides emotional support through its mentoring program and offers a "Getting Ahead" class to help their clients get out of poverty.