On the Blackwater, the Howlett's log cabin is surrounded by five acres of woods. The inviting front porch meets a breezeway on the side that continues to the deck on the back. Inside there's no dry wall. Ceilings and walls are all pine with contrasting dark beams and dark kitchen cabinets. The couple worked in foreign locations, acquiring many treasures. The resulting style is "rustic meets exotic."  Note the homeowner's Marine memorabilia and mounted hunting trophies. Count the many bear decorations you find.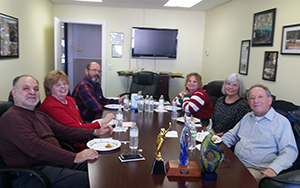 Helping Hands
http://www.helpinghandsfc.com/
Helping Hands of Franklin County's mission is to provide financial assistance to help the emergency needs of the citizens of Franklin County.  Typical emergency needs include electric bill termination or overdue notices, rent or mortgage issues, heating fuel, prescription medication and other emergency needs. 
In addition to emergency financial assistance we provide budget counseling to our clients and referrals to other appropriate agencies.  Our volunteers provide this assistance with care and dignity to each of our clients.