The Hinchman home on the Gills Creek section of the lake is a two-story cottage style home with 5 bedrooms and 4 ½ baths and an in-ground pool with splash pad between the house and the lake. The master suite is on the main level, and lower level bedrooms include a shark-themed bunk room and a sports-themed bedroom. Outside there are patios and a hot tub.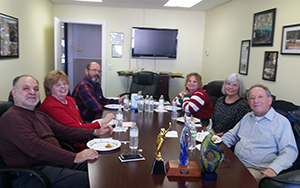 Helping Hands
http://www.helpinghandsfc.com/
Helping Hands of Franklin County's mission is to provide financial assistance to help the emergency needs of the citizens of Franklin County.  Typical emergency needs include electric bill termination or overdue notices, rent or mortgage issues, heating fuel, prescription medication and other emergency needs. In addition to emergency financial assistance they provide budget counseling to their clients and referrals to other appropriate agencies.  Their volunteers provide this assistance with care and dignity to each of their clients.