On the Blackwater, the Borum home, loved for 20 years, no longer met the family's needs, so they opted to demolish and rebuild. Gone was the 4 bedroom, 2 bath home with 7 foot ceilings, now replaced by a contemporary farmhouse designed to maximize the lake view while highlighting the remarkable Zelkova tree at the entryway. Enter at the kitchen, and see the open eating area and living room. The master suite and 2 guest suites are also on this level. A highlight is the huge covered deck with seating and adjoining dining porch. Two more bedrooms and a bath are on the lower level. The stilt cottage outside is Nancy's studio.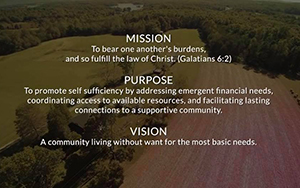 Faith Network of Franklin County
https://www.facebook.com/fcfaithnetwork/
The Faith Network was formed in July 2017 to serve people experiencing homelessness in Franklin County.  They assign each individual or family a mentor who works with them for a 3-6 month period.  Mentors provide support as the mentee strives to complete goals on their service plan.  The Faith Network promotes self-sufficiency by addressing emergent financial needs, coordinates access to available resources, and facilitates lasting connections to a supportive community.