The Anderson home in Waverly was on the Charity Home Tour over 20 years ago, but huge changes have been made by the new owners who have replaced frilly French style arches, inside and out, with a country, almost Craftsman style of straight lines. Walls were torn out to create a more open floor plan and a kitchen with twice the amount of cabinet space. "Before photos" will enlighten visitors to what one can do to a house with good bones.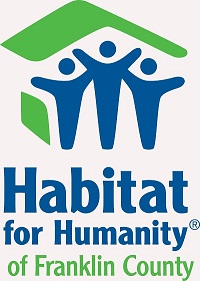 Habitat for Humanity
As a nonprofit organization, Habitat for Humanity of Franklin County brings people together to build homes, communities, and hope. They construct new and rehabilitate existing housing throughout Franklin County to provide low-to-moderate income individuals and families with affordable housing options. They help families build strength, stability, and self-reliance through shelter. Everyone in Franklin County deserves decent, affordable housing! In addition, Habitat for Humanity provides Critical Home Repairs, such as building ramps, replacing roofs, and minor home repairs.